Le Tan Application Mitt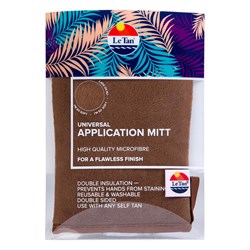 5
2
5

8-6-2017 12:38:57

Fijne zachte handschoen om streeploos en zonder vieze handen het Self Tan product op te brengen. Na het gebruik even uitgespoeld en de handschoen is weer klaar voor de volgende keer!

5

30-4-2016 12:05:22

Very luxurious product. shipment very fast. packaging lovely, everything was wrapped individually, it was sent in a wallet, very pretty. My first order was for tint and and a aplication mitt. I have now placed my second order for self tan and exfoliating mitt. I needed help translating everything and with payment details. I was contacted quickly and guided through the process. Very Friendly! Definatly 5 star products and service!
Le Tan Application Mitt
Productnummer: 30050117
EAN Nr#: 9312658155218
Voorraad:
54
€
9
,
95
Deze applicator handschoen zal uw handen schoon houden terwijl u de creme gelijkmatig aanbrengt. De handschoen kan gewassen worden na gebruik.