LASHXTEND lengthening BLACK mascara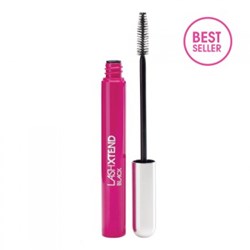 LASHXTEND lengthening BLACK mascara
Voorraad:
1
€
17
,
00
A no-smudge, no-flake innovative tubular mascara that amplifies and defines lashes with incredible volume and length. LASHXTEND is a rich glossy lengthening, black mascara with innovative tube-technology.
The formula forms water-resistant 'tubes' around each and every lash for maximum length, definition and hold. Once applied, the lightweight, glossy black formulation binds to lashes and will not run, smudge, clump, or flake. The innovative tubular formulation is buildable depending on desired look and lifts and coats each lash with zero-smudge 'tubes' that are easily removed with warm water.
Why you need it:
No smudge, no flake tubular mascara
Long-lasting and water resistant
Buildable for maximum length
Easily removed with warm water
Safe for sensitive eyes and contact lens wearers.
How to use:
Apply generously to clean and dry lashes. Apply one or more coats, but don't flutter between until they're dry! Keep applying coats until the desired lash length, separation and volume is achieved.
To remove, no makeup remover is required. Simply apply warm water and a little gentle pressure for tubes to easily slide off lashes.