HYDRO GLOW MIRACLE MASK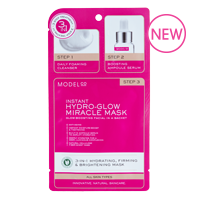 HYDRO GLOW MIRACLE MASK
Voorraad:
4
€
8
,
00
ModelCo HYDRO-GLOW MIRACLE MASK is an innovative 3-step sheet mask that delivers instant visible results. Perfect for dry, tired skin or simply for a boost of moisture and glow when you need it most.
This unique triple-action solution for glowing skin contains a cleanser, concentrated skin ampoule serum and sheet mask. Hyaluronic acid deeply hydrates, whilst anti-ageing ingredient Adenosine plumps and revitalises the skin. Chamomile leaf extract soothes skin and leaves the complexion looking bright and luminous.
Why you need it:
Instant hydrating, firming, and brightening results for immediate skin pick-me-up.
Single-use mask set is perfect for weekly skin routine or prior to a special event
Immediately replenishes dehydrated and dull skin, leaving it noticeably refreshed, radiant, firm and glowing.
Natural cellulose mask locks in moisture to the skin and allows for faster, more intense absorption.
Suitable for all skin types.
How to use:
STEP 1: DAILY FOAMING CLEANSER The gentle cleanser is formulated with fine, tiny beads to effectively remove dead skin cells and prepare skin to absorb mask nutrients and moisture. Gently massage into face and work into a lather. Rinse off with lukewarm water.
STEP 2: BOOSTING AMPOULE SERUM Highly concentrated ampoule serum amplifies hydration and skin radiance. Apply prior to using face mask to entire face/neck. Gently tap into skin to absorb.
STEP 3: FACE MASK Place mask squarely on the entire face, smoothing to fit the curves of the face, adjusting around eyes, nose, and mouth. Leave on for 15-20 or longer for maximum absorption. To remove, peel off the mask and gently dab any excess liquid into skin.
Do not rinse. Discard the mask after single use. Do not flush.