DOUBLE SIDED FACIAL WIPES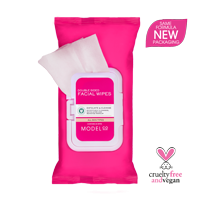 DOUBLE SIDED FACIAL WIPES
Voorraad:
5
€
7
,
00
EXFOLIATE AND CLEANSE
Skin type: All skin types
Exfoliate and cleanse in one smart wipe with ModelCo DOUBLE SIDED FACIAL WIPES. These dual sided beauty wipes offer a smoothing cleansing tool on one side and a soothing and effective exfoliation on the reverse, leaving your skin healthy and hydrated.
Enriched with Aloe Vera, Cucumber Extract, Green Tea and Vitamin E, these soothing wipes will help to refine your complexion and restore moisture whilst leaving your skin smooth and hydrated. Free from parabens and sulfates, these beauty wipes are suitable for all skin types and are perfect for keeping your skin clean while on the go. The convenient pack of 25 wipes fits easily into your gym bag, suitcase or makeup bag.
BENEFITS:
Free from chemicals, synthetic ingredients, parabens, sulfates, silicones, PEGs and synthetic colours
Effectively cleanses, exfoliates and removes makeup and impurities
Leaves skin clean and refreshed
Refines your complexion and restores moisture
Contains hydrating, replenishing and antioxidant rich Aloe Vera, Cucumber Extract, Green Tea and Vitamin E
WARNING: For external use only. If irritation occurs discontinue use. Keep out of reach of children.
INGREDIENTS:
Aloe Vera
Cucumber Extract
Green Tea
Vitamin E
Gently wipe over the eyelids, face and neck using smooth side to remove make up and dirt. Turn the wipe over and use the textured side to exfoliate in a circular motion avoiding the eye area. Ensure the pack is properly sealed to prevent the wipes drying out after use. Dispose of wipe properly, do not flush.