INSTANT MIRACLE BOOSTER SERUM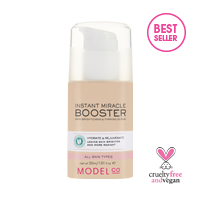 INSTANT MIRACLE BOOSTER SERUM
Voorraad:
4
€
29
,
00
HYDRATE AND REJUVENATE
Skin type: All skin types especially mature
Brighten, tighten and revitalise your skin with ModelCo INSTANT MIRACLE BOOSTER. The serum is a powerful elixir of anti-ageing and collagen boosting ingredients that invigorate, correct and protect the skin for a youthful and glowing complexion.
Fast absorbing, lightweight and non-greasy, ModelCo INSTANT MIRACLE BOOSTER combines natural ingredients, including Vitamin C, to restructure and repair skin as well as brighten, tighten and revitalise while offering intense hydration. A powerful anti-ageing booster, this serum invigorates dull, tired or stressed skin for a healthy, glowing complexion.
BENEFITS:
Free from chemicals, synthetic ingredients, parabens, sulfates, silicones, PEGs and synthetic colours
Non-greasy, fast absorbing and anti-ageing
Leaves skin brighter and more radiant
Includes Vitamin C to brighten the complexion, increase firmness and suppleness and promote visibly younger-looking, radiant skin
Contains Hyaluron to smooth, soften and reduce the appearance of fine lines and wrinkles; Flower Bulb Extract to help reduce the appearance of wrinkles and sagging skin and Floral Nectar to revitalise dry and tired skin
Contains Acai Fruit, Pomegranate Extract, Green Tea Extract, Rose Geranium and Lavender Oil to protect against environmental aggressors and free radicals. Antiseptic, anti-inflammatory properties protect and relieve stressed skin
NO PEGs, NO parabens, NO animal derived ingredients, NO sulfates, NO silicones, NO synthetic colours, NO synthetic perfumes, NO mineral oils
INGREDIENTS:
Vitamin C
Acai Fruit
Pomegranate Extract
Green tea Extract
Rose Geranium
Lavender Oil
For best results, massage 2-3 drops after cleansing, morning and night.