FLUID SPLASH 3-IN-1 FOUNDATION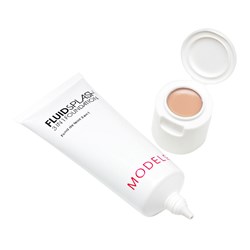 FLUID SPLASH 3-IN-1 FOUNDATION
Voorraad:
2
€
42
,
00
All you need for a perfect complexion, FLUIDSPLASH 3 in 1 FOUNDATION is an oil-free liquid foundation with an inbuilt concealer and eye base. The hydrating formula feels feather-light and creates a dewy, flawless finish with long-lasting coverage and SPF 15+ protection.
Enriched with the hydrating properties of Vitamin E and C, FLUIDSPLASH leaves your skin looking naturally radiant. The inbuilt concealer and eye base contains Vitamin E and Aloe Vera that work to banish blemishes and imperfections. Use FLUIDSPLASH with CHEEK & LIPS TINT for an effortlessly dewy complexion.
Why you need it:
Convenient 3-in-1 foundation, concealer and eye base.
Lightweight, long-lasting coverage.
Contains SPF 15+ protection.
Deeply hydrating formula with 50 per cent water content.
Added antioxidants to keep skin hydrated.
Suitable for all skin types.

​
STEP 1. After using FACE BASE SKIN PRIMER, apply the inbuilt concealer to needed areas of the face, including around the nose and eyes.
STEP 2. Apply liquid foundation with a damp brush, sponge or fingers onto your face, lightly blending in with the concealer. For further coverage, repeat steps as necessary.