Le Tan MOROCCAN SELF TANNING DRY-OIL light-medium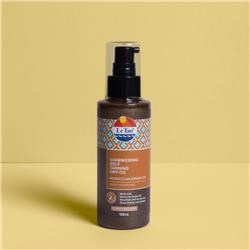 5
1
5

5-6-2017 10:56:59

Even wennen aan de erg dunne olie, smeert daardoor wel perfect uit met de handschoen, trekt snel in, is niet vet. Het geeft snel een mooie zonnige kleur op mijn lichte huid, mijn sproeten blijven zichtbaar dus een natuurlijk effect. Hoe vaker je opbrengt des te bruiner je wordt. De glans (shimmer) is leuk en subtiel maar verdwijnt tijdens douchen, voor mij geen probleem! Fijn en makkelijk te gebruiken product!
Le Tan MOROCCAN SELF TANNING DRY-OIL light-medium
Voorraad:
10
€
20
,
95
With no need to shower after application, you can simply dress and go with this easy to apply shimmering dry-oil. Infused with Moroccan Argan Oil, its restorative properties, anti-oxidants and vitamin E will deeply nourish your skin.
Ensure skin is clean and exfoliated. Shake well. Apply with mitt to face and body. Use sparingly on elbows and knees. For a darker tan, re-apply after 30 minutes. No need to shower. Dry for a few minutes before dressing.