Le Tan SPF50+ Coconut Sunscreen Spray 250mL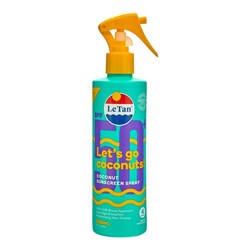 Le Tan SPF50+ Coconut Sunscreen Spray 250mL
EAN Nr#: 9312658058878
Verwachte levertijd: 3 maanden
€
19
,
95
This feel good SPF50+ sunscreen spray is sweat resistant, 4 hours water resistant and won't run into your eyes. The new and improved formula contains hydrating ingredients such as coconut water to hydrate the skin while in the harsh Australian sun. Australian made and owned, Le Tan is tested under the strictest conditions to protect you since 1977.
Shake well. To use, turn the spray lock to the open position (lock when not in use). Squeeze trigger repeatedly until lotion sprays through nozzle. Spray liberally onto clean, dry skin and rub evenly at least 20 minutes prior to sun exposure. Re- apply every 1-2 hours and after exercise, swimming or towel drying.
Active ingredients:
5.00% w/w Butyl Methoxydibenzoylmethane, 4.00% w/w 4-Methylbenzylidene Camphor, 2.00% w/w Octocrylene, 0.50% w/w Bemotrizinol.
Preservatives: Phenoxyethanol, 1,2-Hexanediol, Caprylyl glycol.
WARNING:
Avoid contact with eyes. Test on small area of skin. If irritation occurs discontinue use. Do not use on broken, damaged or diseased skin. Do not expose babies less than 6 months old to the sun. Avoid prolonged sun exposure. Wear protective clothing, hats & eyewear when exposed to the sun. Store below 30 degrees.