Le Tan Uber Dark SPF15 Sun Tanning Oil 120mL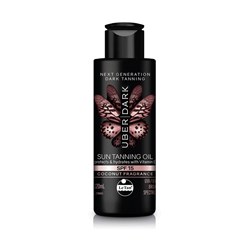 5
1
5

17-6-2019 20:13:46

Je verbrand niet naar het opbrengen heerlijk spul echt een aanrader je kan dus echt genieten van de zon
Le Tan Uber Dark SPF15 Sun Tanning Oil 120mL
EAN Nr#: 9312658058939
Product is niet op voorraad
€
11
,
95
This SPF15 coconut sun tanning oil protects and hydrates, helping to achieve a darker golden tan while defending against dryness and peeling. Formulated with Vitamin E to hydrate skin while in the harsh Australian sun.
Shake Well. Apply liberally onto clean, dry skin and spread evenly at least 20 minutes prior to sun exposure. Re-apply every 1-2 hours or after exercise, swimming or towel drying.
Active ingredients: 4-methylbenzylidene camphor 2.00% w/w, Octocrylene 1.00% w/w, Butyl Methoxydibenzoylmethane 3.0% w/w
Preservatives: Propyl Hydroxybenzoate.
WARNING: Avoid contact with eyes. Test on small area of skin. If irritation occurs discontinue use. Do not expose babies less than 6 months old to the sun. Avoid prolonged sun exposure. Wear protective clothing, hats & eyewear when exposed to the sun. Store below 30 degrees.