Holiday pack LeTan SPF30 + SPF15 Coconut + free aftersun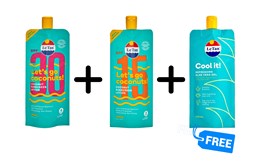 Holiday pack LeTan SPF30 + SPF15 Coconut + free aftersun
EAN Nr#: 9312658058854
Voorraad:
29
€
23
,
90
Holiday pack ... deze week met gratis aftersun t.w.v. € 11.95
This feel good SPF30 + SPF 15sunscreen lotion is sweat resistant, 2 hours water resistant and won't run into your eyes. The new and improved formula contains hydrating ingredients such as coconut water to hydrate the skin while in the harsh Australian sun. The new squeezy pouch format is lightweight, portable, easy to empty completely and contains 69% less packaging*. Australian made and owned, Le Tan is tested under the strictest conditions to protect you since 1977. (*Weight vs 125mL Bottle)
Apply liberally onto clean, dry skin and spread evenly at least 20 minutes prior to sun exposure. Re-apply every 1-2 hours or after exercise, swimming or towel drying.